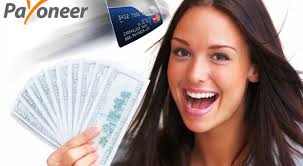 Is Payoneer good for freelancers and affiliate marketers? Find out in my hands-on Payoneer debit card review
In this Payoneer review I will be explaining how the Payoneer MasterCard Prepaid Debit Card works and give a little honest feedback, based on my own personal experience with Payoneer over the course of one year and counting.
We'll cover questions on how it all works, what are all the fees, and other important details that are easy to miss at first glance.
If you're a freelancer or affiliate marketer like me, you've probably got enough to do right now — so let's get on with it.
What is the Payoneer MasterCard Debit Card?
Payoneer MasterCard Debit Card: Facts
I'll start off with the basics here. As their name implies, Payoneer are true 'pioneers' in the Payoneer global payment processor sector and there isn't an easy comparison to be made between Payoneer and other services like it.
To save you time figuring it all out, here's what they can do for you.
What is Payoneer?
Payoneer is a global payment processor similar to PayPal which promises a safe and affordable online payment solution  for international freelancers, affiliate marketers, and others who make money online and need to get paid in their home country.
The Payoneer prepaid MasterCard works like any other re-loadable MasterCard prepaid debit card that you can get at your local bank branch, though it isn't a typical local debit card account.
Here's a quick summary of how the card works.
What do you get with the Payoneer MasterCard debit card?
A physical MasterCard prepaid debit card.
An online account linked to your MasterCard card which you can use to view your balance and transaction history, as well as manage your account and personal details.
How can you use it?
You can receive credit/debit card payments from anyone with Visa or MasterCard, from anywhere in the world. This service comes with a small processing fee per payment, and the maximum amount you can receive from a single credit card payment is $1000.
You can receive Direct Deposit payments from US-based companies such as Amazon and PayPal through Payoneer's US Payment Service. The transaction fee for using the US Payment Service is 1% of the total amount transferred. You'll then get paid directly onto your card, rather than having to wait for an international check and paying exorbitant clearing fees on your earnings.
You can receive online payments in USD from Payoneer-approved partners (for example: Elance, Fiverr, MediaWhiz, Media Shakers, and dozens more). Receiving payments this way is free for most partners and takes two days to load, although you can also pay an extra $2.50 if you need the cash within 1-2 hours of requesting it.
You can pay for goods and services online as well as in brick-and-mortar stores. It has the convenience of a credit card for online payments, with the beauty of a prepaid debit card since you cannot spend more money than you have in your account – i.e. you can't get into debt! There is no extra charge added to your purchases when you use the Payoneer card directly at a point-of-sale machine.
You can withdraw cash in your local currency from any ATM with the MasterCard logo visible on it somewhere – there are more than 1 million of these ATMs worldwide. The fee for a standard ATM cash withdrawal is around $3. This fee might sting a bit, but it helps me keep disciplined with my spending habits so I don't mind it too much.
If you don't already have an account with one of Payoneer's partners, you will want to sign up for your Payoneer card directly from the Payoneer website. The yearly card fee is $29.95, which is deducted from your balance automatically so you don't have to worry about renewing it. There are no monthly maintenance fees when you sign up for your card via Payoneer's website.
Please note that Payoneer does provide a few other services such as Global Bank Transfers and the US Payment Service; however, I will not be covering these in this review as I do not use the Global Bank Transfer Service and have only recently been approved for the US Payment Service.
Once I have more experience with the US Payment Service I may write another review detailing how I have found it. [UPDATE: I just received my first Direct Deposit payment from Amazon Associates using Payoneer's US Payment Service – everything came through without a hitch and I'm smiling from ear to ear!]
My payoneer experience – One year and counting
If you're still reading this far, you probably want to know if Payoneer is any good, or maybe you would just like to know "how legit" they are. Before I get to that, allow me to give you a short explanation of how and why I started using Payoneer.
A little over a year ago, I was unemployed and having no luck finding a job in my local area, somewhere south of the equator. I mused about the possibility of using my skills online as a freelance writer – but my main obstacle, of course, was getting paid. PayPal wasn't an option because until recently there was no way to withdraw PayPal funds in my country. Nevertheless, I was sure there had to be a way, and after many weeks of hitting dead-ends, I finally found Payoneer.
Fast forward through a fruitful year of freelancing and some dabbling in affiliate marketing… Well, I'm still using my Payoneer card, and not a day goes by where I'm not thankful for the freedom it gives me to earn money no matter where I am. Although I mainly use it for receiving my freelance earnings on Elance and some affiliate commissions (e.g. Amazon, ClickBank, LinkShare), I have been thoroughly impressed by both Payoneer as a company and the Payoneer prepaid debit card itself.
My major concern when signing up with Payoneer was how long the payments would take to clear, but as it turns out I was worrying for no reason. I have never had a problem with my payments coming through; they have been processed and loaded into my account within the promised two-day waiting period each and every time.
As for paying for things with my Payoneer card, so far I've yet to come across a checkout method that prevented me from purchasing – i.e. it just works. I've bought goods online at both local and online retailers with no problems, and it's as easy as a credit card transaction.
Whenever I have a question regarding the service or my account, I simply search the Payoneer forum and usually find that my question has already been answered, straightforwardly and in sufficient detail, by one of their community managers or support representatives. I can't vouch for the live support because I've never used them, as I prefer email correspondence when dealing with official matters.
With that said (I mean, what more can I say?), if you're an online freelancer, content producer, or affiliate marketer looking for a better alternative to PayPal for getting paid over the internet… This is it.
Verdict: 100% legit and highly recommended.
Here's how to get your own Payoneer card + $25 bonus
Payoneer is running a special 'Refer-A-Friend' promotion for a limited time, meaning that if you sign up through an existing cardholder's referral link now (like this one) you get $25 added to your Payoneer account when you've transferred over $100 in earnings or deposits to your card.
Deposits that qualify towards the $25 bonus include loads from your PayPal account to your Payoneer card using the US Payment Service, as well as from any other company on the US Payment Service Whitelist.
Applying for your card is quick, easy, and you don't even need an existing bank account. Once you sign up online with Payoneer, your card is shipped to you at no charge.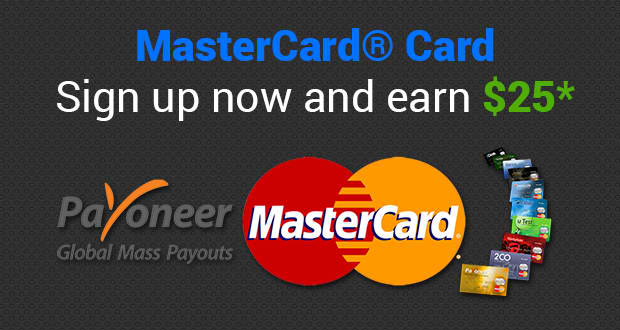 http://antonzlatev.com/wp-content/uploads/2015/06/images-1.jpg
166
303
Anton Zlatev
https://antonzlatev.com/wp-content/uploads/2015/07/logo250.png
Anton Zlatev
2015-06-24 21:57:52
2016-09-29 08:27:33
Payoneer - The Best Way to Get Paid