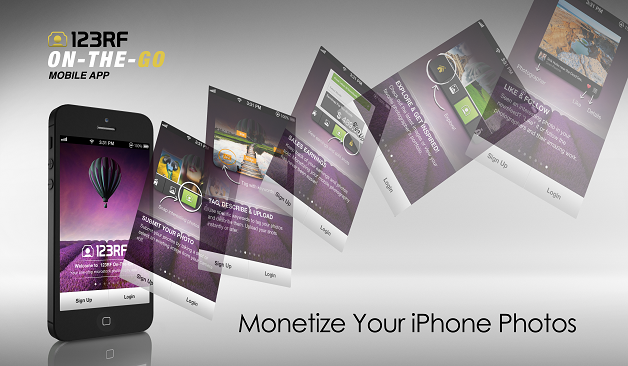 As cell phones continue to get smarter, so too has the way in which we use them. The latest innovative development for taking advantage of your smartphone's features is the ability to monetize the photographs you've taken with your iPhone.
"Now, anyone can capture a moment wherever they are and cash in on their amazing shots," says Leon Hudson of the popular royalty-free stock imagery site 123RF.com, which recently launched the mobile microstock photography app 123RF On-The-Go. The new app allows users to monetize those images, directly from their iPhones, by uploading them to the 123RF website as royalty-free stock that users can browse and purchase.
Simon Dayton is a San Francisco-based creative manager who has been selling his images as stock photography through 123RF.com and now with the new 123RF On-The-Go mobile app. "I initially started selling my photographs around five years ago when I realized that instead of just keeping the photos on my hard drive, I could actually monetize the images by selling them via stock libraries," he says.
Since then, he has seen his shots end up in print and magazines. "The biggest thrill was seeing one image I took of a female model holding a flower, blown up to around 12 feet tall in a shop! It gives you a great deal of satisfaction when you see your images being used."
What started out as a way to make additional income has proved to have other, unexpected benefits, too: Dayton has found that shooting stock has also stoked his creativity. "I enjoy shooting now more because of the variety of imagery you can create, especially some of the more conceptual shots."
To encourage and celebrate that dedication to creativity, 123RF On-The-Go users can also participate in contests that award cash prizes to the most creative submissions. That's on top of the revenue users generate by selling their stock through the site.
Because with more than 20 million unique visitors frequenting the website each month, there's plenty of potential for profiting from the service, whether you choose to upload only occasionally or take it more seriously as a business venture because there's no limit to how much you can make off your images. Plus, even though all the images sold on 123RF.com are sold under a royalty-free license, you still retain the copyright to any photographs you sell on the site.
You can download the 123RF On-The-Go mobile app for your iPhone from the Apple App Store for free, and start turning your smartphone stash of snapshots into cash.
http://antonzlatev.com/wp-content/uploads/2015/06/1232.png
366
628
Anton Zlatev
https://antonzlatev.com/wp-content/uploads/2015/07/logo250.png
Anton Zlatev
2015-06-21 14:09:20
2015-06-21 14:09:20
A New Use for Your Smartphone: Create Stock Photography